With free wifi throughout, our location overlooks the wonderful picturesque Pavilion Gardens
Room 6
Room Configuration at The Roseleigh
FREE Internet Access – Ruckus Wireless System ( providing complete coverage in all bedrooms and all public areas) is available free of charge, with a discreet desktop facility in the public lounge and free WI-FI access Ruckus Testimonials
7 Flexible Rooms en suite (can be King Size Double or Twin) –           2 with lake view and 1 ground floor
5 Standard Double Rooms en suite (2 with Bay Window lake view)
2 Single Rooms – each with separate private facilities                    (not en-suite)
Room 10 is a small compact room with a lake view and its bathroom is located 7 steps down and 2 steps away
Room 13 is a larger single room with side view aspect and its large bathroom is directly opposite the room.
Single occupancy prices go to the Tariff & Booking page & tick the box which states "Show Me : Single Occupancy Prices"
Please note that at weekends / festivals /peak season we do not provide discounted single occupancy rates – the full room price would apply.
(NB: Lake View Rooms – Full Room Rate always applies)
We welcome children aged 6 years and over (please note that we have no family rooms, the maximum occupancy is 2 people per room in our twin/double rooms, and 1 person in our single rooms)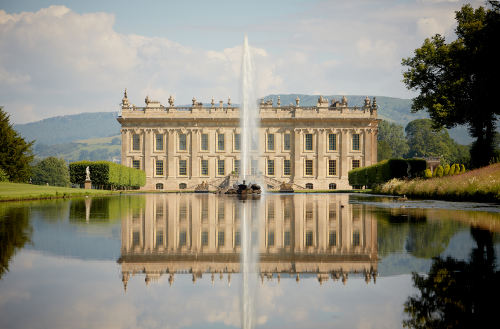 Chatsworth House (©Visit England)
Special Offer
Chatsworth House Ticket Offer
Guests can purchase discounted "House & Garden" entrance tickets direct from the Roseleigh.
Chatsworth House terms and conditions apply.
General Information
Internet Access
FREE Internet Access – Ruckus Wireless System (providing complete coverage in all bedrooms and all public areas) is available free of charge, with a discreet desktop facility in the public lounge and free WI-FI access. Ruckus Testimonials
Walkers:
Would walkers please remove boots and dirty clothing before entering The Roseleigh. We will do our best to try and dry wet boots – please contact reception. Please note that we do not allow the washing of boots in the bedroom en suite facilities.
Health & Safety
It is prohibited to leave electrical devices charging whilst unattended throughout the Roseleigh – as this is a high level fire hazard.
We reserve the right to unplug items left unattended.
No Smoking:
By popular request, in the interest of comfort and safety of our guests we operate a "No Smoking" policy throughout the property (THIS INCLUDES E-CIGARETTES). Should you choose to ignore this policy, you will be asked to leave and charged in full for your entire stay plus an additional £100 for specialist cleaning to your room. Payment will be taken from the card used to secure the room/s.
Parking:
Access to The Roseleigh car park is via Hartington Road. Up to nine spaces (subject to the way cars are parked) are available to the side and rear of the Roseleigh on a first come /first served basis (please note that we cannot reserve specific spaces) – parking is prohibited in front of the property for safety and access reasons. Additional parking is available nearby.
Valuables:
The proprietors cannot accept responsibility for loss of, or damage to, guests' property both in the property or our Car Park.
Public Lounge:
Is available from 0800 to 2200 hours daily.
Our family-run guest house offers relaxing and stylish accommodation. Place a booking